TULSA WORLD

By James D. Watts, Jr., World Scene Writer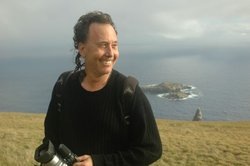 Oklahoma was one of the places considered for the film "Hotspots." That the state failed to end up in the finished documentary, however, is a good thing in the eyes of Michael Tobias.
Tobias, the executive director of the Dancing Star Foundation, is a writer and filmmaker who has devoted himself to issues of conservation, wildlife preservation and bio-diversity.
Tobias, along with his wife and frequent collaborator Jane Gray Morrison, will be at the Oklahoma Center for Poets and Writers' Celebration of Books on Saturday. They will take part in panel discussions on wildlife and conservation in life and literature, and will host a screening of their latest film, "Hotspots," at 7 p.m. at the Circle Cinema, 10 S. Lewis Ave.
"A hot spot refers to a place on Earth — specifically on land — that contains at least 1,500 flowering plants endemic to the region, 70 percent of which are threatened with extinction," Tobias said, speaking by phone from New Zealand, where he is observing the re-introduction of two rare species of birds to an ecological preserve there.
» More