WAIKATO TIMES | NEW ZEALAND


By Jeff Neems

Waikato's ecological oasis, Maungatautari, features as one of the planet's 35 most biologically significant sites in a new international documentary to screen in Hamilton next week.


The New Zealand premier of Hotspots will be held at Waikato University's Gallagher Chamber (Wel Energy Trust Academy of Performing Arts) next Thursday, and will include a short talk by director Michael Tobias. He and co-director Jane Gray Morrison spent several weeks on Maungatautari last year filming for their documentary.

The 90-minute film, released earlier this year, covers efforts to save tens of thousands of species globally and 35 different locations considered Earth's most biologically important sites. The film took three years to make and covers some 20 years of research.

"From the trust perspective, we're delighted to have been chosen to show the premier," said Jim Mylchreest, Maungatautari Ecological Island Trust chief executive. "It's recognition of the importance of Maungatautari in terms of conservation issues in New Zealand and overseas."

» More
EPUBLISHERS WEEKLY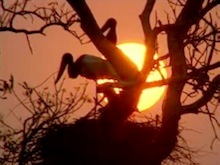 Hotspots is a new documentary produced by the Dancing Star Foundation.
In Geeklish, a hotspot is a location that provides public Wi-Fi access. But talk with an ecologist, and you'll discover that a hotspot is a geographical location containing an immense diversity of animals, birds, or plants. The key to saving our planet is to protect and preserve these environmental hotspots.
The new film documents the latest and best efforts to save these essential places.
» More